...these are a few of Lizzy's favorite things. Besides saying, "I'll do dat!" Which is her new favorite saying. I am trying not to dwell on the fact that she is starting to want to do everything on her own, how she wants, in her own timing. I have to admit the little stink eye expression she has started doing is kinda cute, but yelling "Nnnoooooo!" at the top of her lungs is not so cute, so back to her other favorite things.
Babies-
Oh how she loves babies. Baby dolls, or real babies, she can't stay away from them. We are still reading Christmas books because she loves looking at baby Jesus. Speaking of Jesus, "Jesus loves me" is her favorite song and she won't allow anything else at bedtime. Sometimes she sings it in the car. Her rendition is just "Jejus... Bibol....Jejus....Bibol...Jejus...Bibol..." you get the idea.
giving one of her fav babes a kiss
Books-
The boys have always loved to read but I think Lizzy would listen to stories all day long if it were possible. Here recent favorites have showcased springtime animals; ducks, chicks, bunnies, mice. I love snuggling up to read to her in her cozy chair twice a day.
recent favorites
Bunnies-
What with Easter season and the new Knuffle Bunny book my mom got us Lizzy can't get enough of bunnies. Even squirrels are bunnies to her. I was just telling Kyle not long ago that I wished I could find a way to let her pet and cuddle one of these springtime animals she loves to read about- a chick, or a duck, or a bunny. Then we went to Kyle's cousin's house for Easter and low and behold, their daughter Noelle has a bunny. What a perfect Easter treat!
holding Jackie the bunny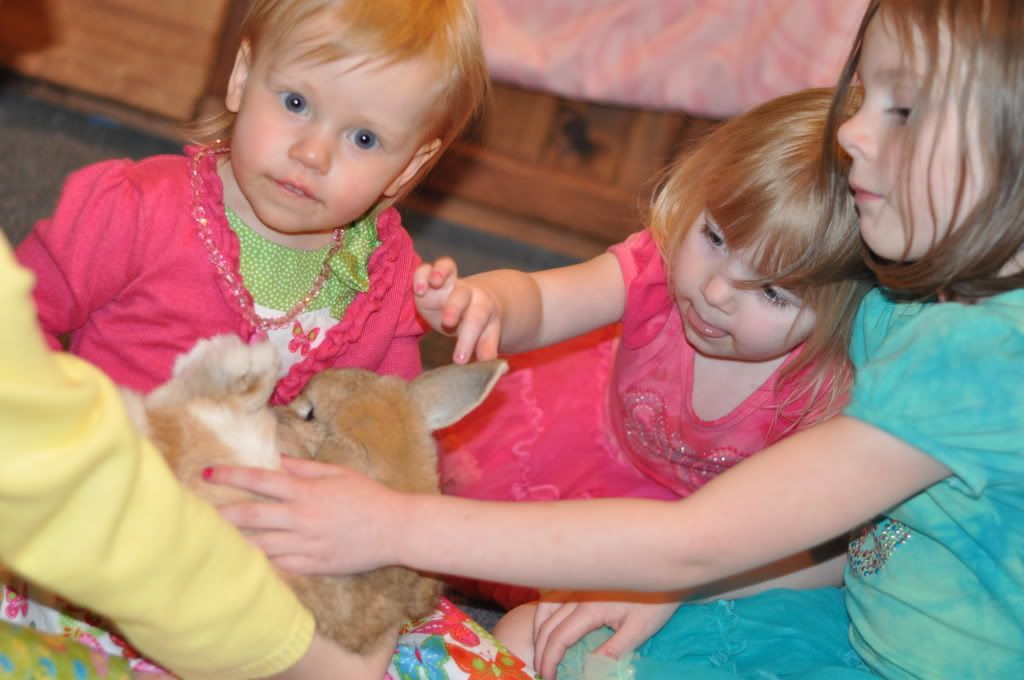 Jackie has an adoring crowd
Beautiful Noelle
Lizzy was in heaven! We had a wonderful Easter by the way. I didn't come down with the flu until later that night so most of Resurrection Sunday was thoroughly enjoyed. Here's a couple more pictures.
Egg hunt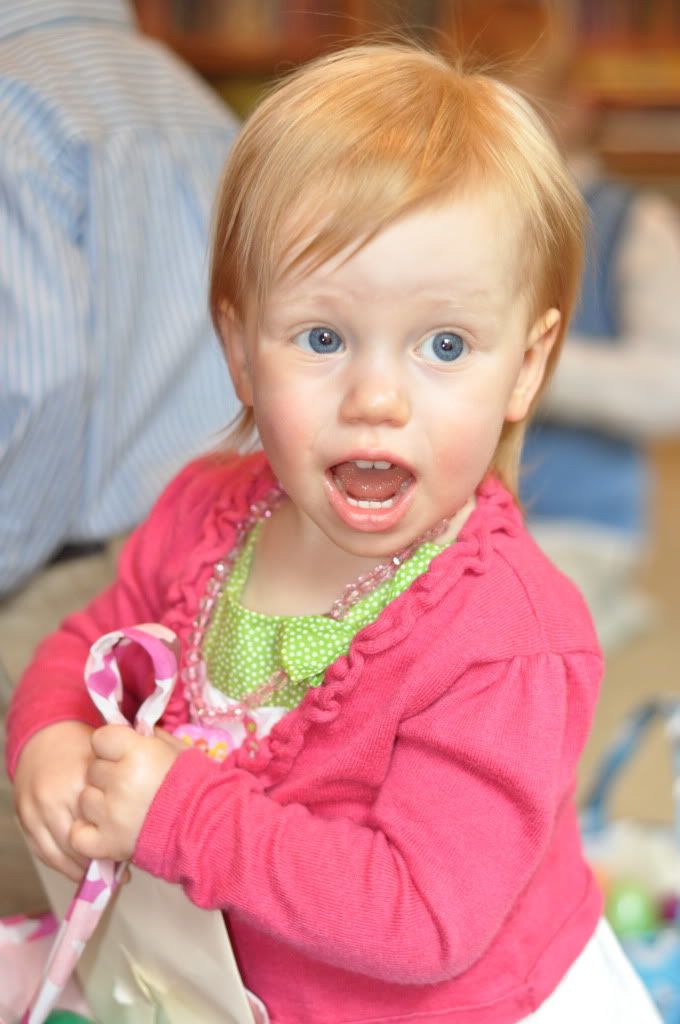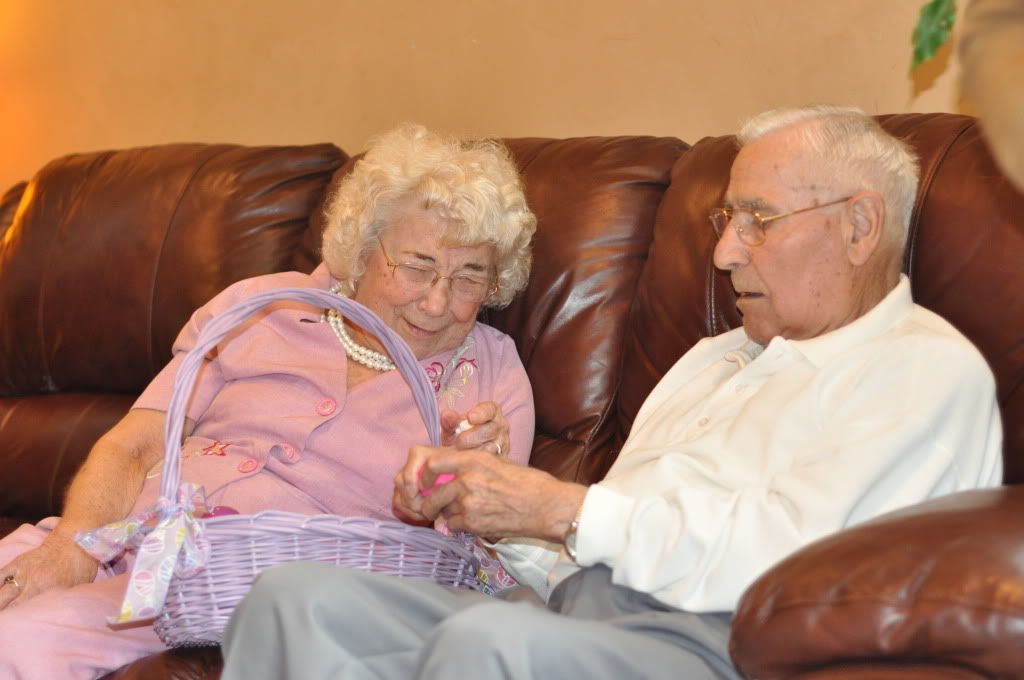 GG and Great Grampa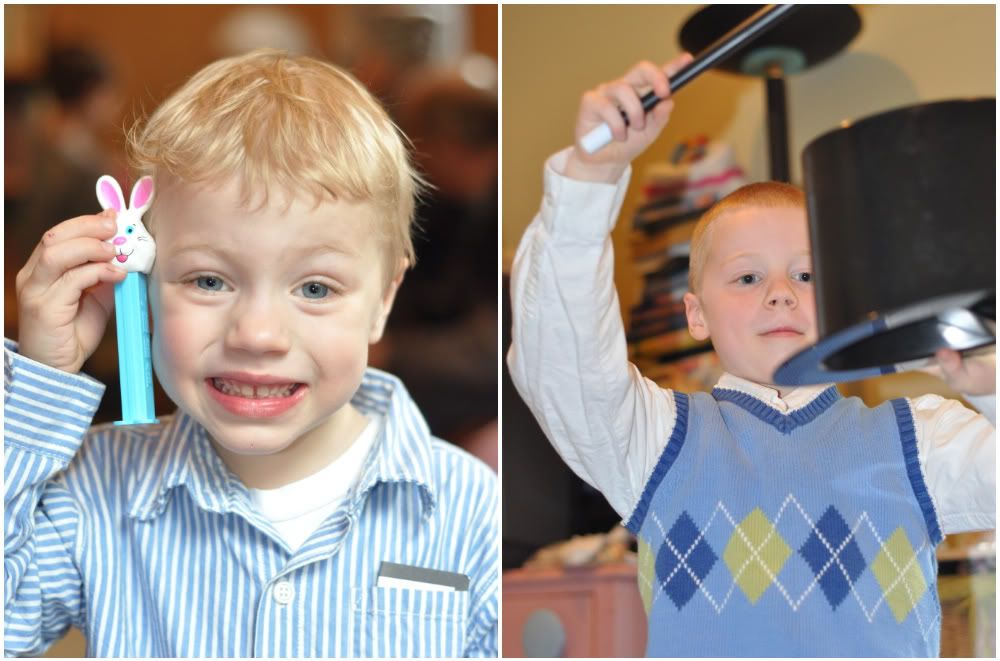 my boys